JJJLONGHAIR Photo Page
All Video

ALL OF MY VIDEOS ON 1 PAGE!
"A quieter place than YouTube"
Simple instructions to watch videos of your choice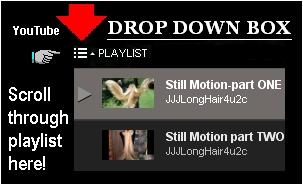 Drop Down Box creates your menu!

Located in the upper left corner of each video player below


JJJ's HAIR DOWN


JJJ's SLIDE SHOWS

JJJ's ART OF HAIR

JJJ's CLASSIC VIDEO


JJJ's BUN TUTORIALS

JJJ's PONYTAIL, BRAID and UNIQUE STYLES

MY SECOND CHANNEL
All of my videos here on this page!
Now you can't miss anything!

Please SUBSCRIBE to my channels by going to YouTube!
Here are the clickable links for you!

JJJLONGHAIR4u2c
~and~

JJJLONGHAIR

Thank you so much!

JJJ