JJJLONGHAIR PHOTO PAGE


& UPDATE PAGE!
This Sites Page Updates, My Newest Youtube Videos, My Hair Progress, Hair Related News, New Youtube Channels for Long Hair and Other Info!
______________
January 2015

I am considering making this page easier to follow by listing changes, updates, new photos & video posted by MONTH instead of categories like I have now.
I will also include my current hair length and any other personal info (products, trims etc) I think you might want to know.
Maybe some blogging too...
Check back soon!

JJJ
PLEASE VOTE ABOUT MY BUN OF THE MONTH! Thank You.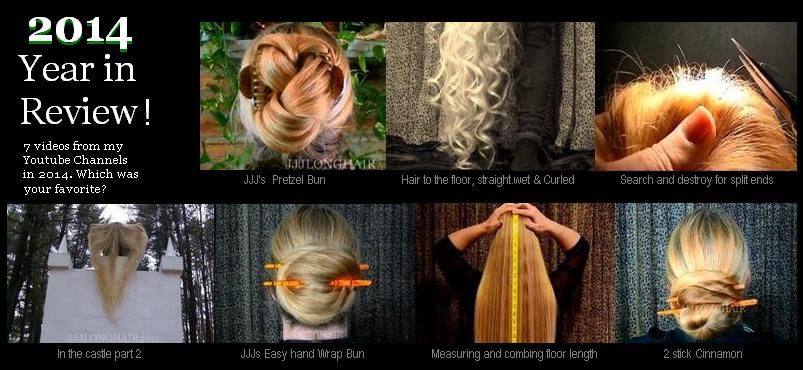 Have you visited my Guest Book Yet? GUESTBOOK

I hope to get some new videos up soon for 2015.
Thank you for your patience!

New BUN of the MONTH Album created October 2013
New Wavy hair album created Oct 2013





Bigger and Better Photo tutorials 2013 and beyond




2014 JJJ's Pretzel Bun 2014- A remake in HD!
NEW 12-2014 JJJ's 2 stick Cinnamon Bun- remake in HD!
NEW BUN! JJJ's Easy Hand Wrap bun with 2 Eaduard sticks

10-30-13 PIN CURL BUN!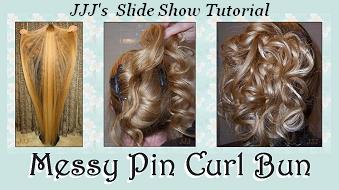 see bun video page or see it on youtube HERE


I have my routine pretty well figured out and it's posted on my hair care page. I have been trying a few dry shampoo brands and will be reviewing these soon (early 2015) on my page...stay tuned.

New Youtube Channel LINK: Tammy Honeyblonde!
October 2013
Now calling herself "Goldie Long Locks!"

She has a new website too...Under construction 2015



NEW JJJs NEW FACEBOOK PAGE LINKED

New Hair Tutorial Link posted kmemuse
She has been on youtube for a while and has some nice braided style buns.


JJJ's Blast from the past video on Youtube

posted September 2013
Check out this channel too! Its my 2nd channel!


JJJ's Newest VIDEO Additions (Youtube linked)

Quick Links to click and watch:

ONE LONG BRAID VIDEO

Figure 8 & Infinity Bun

Still Motion Part Three

Long Hair Wrangler

Double Braid Bun with Flowers

Favorite combs and Brushes

Wide Tooth Combing

Long Hair Maintenence, tools tips & helpers

Buns of 2012. A Slideshow! 29 styles!

Blast from the past-My first videos


NEWER HD VIDEOS

Figure 8 twist and video effects
JJJ in the Castle part TWO-Floor length Hair

Measuring and combing floor length hair
Floor Length hair! Straight,Wet & Curled


Q and A (question and Answer Page) COMING March 2015

and MY DIET PAGE coming soon! March 2015


This is my 2nd Youtube channel that has helpful tips, products, accessories and more.

The most recent update is the Blast from the past and hair products video.
Plus-SEARCH AND DESTROY FOR SPLIT ENDS
(INCLUDES LENGTH SHOTS)


MOVED TO A SUB PAGE HERE 1-2015! See video from the movie Tangled (Rapunzel remake)
Plus, some animations from the movie.


29 songs with the word HAIR or LONG HAIR. NEW MUSIC PAGE for Summer 2013.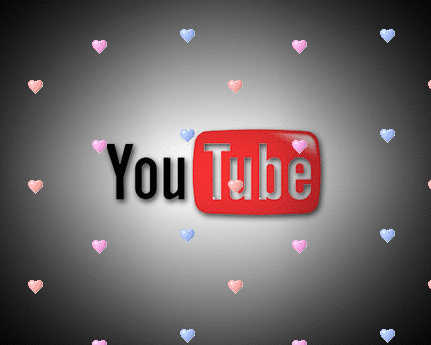 MORE YOUTUBE DETAILS:

New length videos and more Bun tutorials, some old videos will be remade in High Definition!
Watch my 2 Youtube Channels!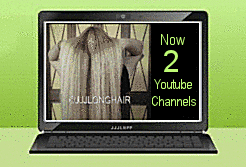 JJJLONGHAIR4u2c click> CHANNEL
This channel has bun demos, art of hair video, hair progress and slideshows.

Some recent personal favorites...

CLICK HERE! See full length at 2:11 and a link to another version of video at the end.
THUMBS UP on the YOUTUBE PAGE to show you LIKE LONG HAIR!

MY FIRST VIDEOs SHOWING FLOOR LENGTH HAIR!

Watch Measuring Video HERE


JJJLONGHAIR PhotoPage click> CHANNEL

This channel has products, hair tips and tools & combs brushes that have worked for me!

(called Youtube2 in the menu)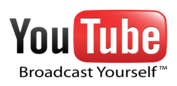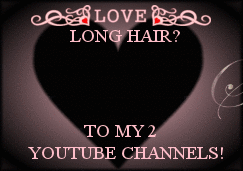 Thank you for your support!

OTHER NEWS...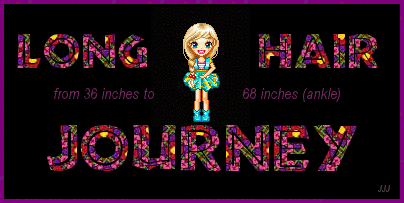 ( not the best photos...working on better ones! )

~My Banners~

Thanks for visiting! Check back soon!

keep growing!
JJJ